About Dr H & K
Highly advanced comprehensive Urology OP centre
Dr. H&K Urology Center, the outpatient wing of MIART has the latest amenities and ultra-modern diagnostic and interventional facilities for the patients. The specialties include Laparoscopy lab, Prostate clinic, Laser clinic, Stone clinic, Paediatric and Female urology, and Robotized lab division among others. The outpatient facility caters to comprehensive care for patients and equipped with advanced pharmacy and laboratory.
know more
Our Divisions
100W HOLMIUM LASER
HOLEP FOR PROSTATE
RIRS FOR KIDNEY STONES
URS FOR STONES
LASER TURBT
LASER EIU
LASER LITHOTRIPSY
LASER ENDOPYELOTOMY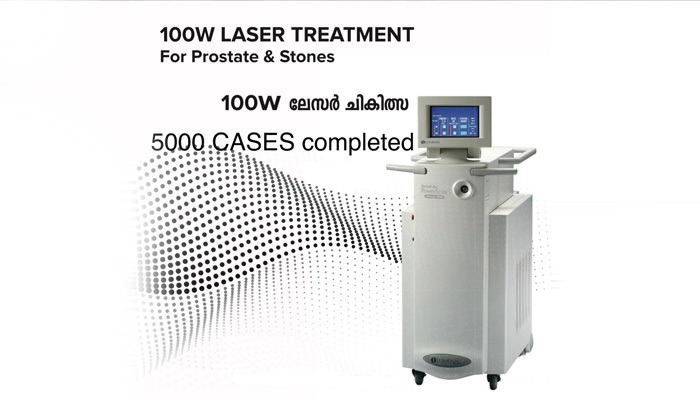 3D DEX ROBOTIZED LAPAROSCOPY (FRANCE)
3D KEY HOLE SURGERIES
NEPHROLITHOTOMY
PYELOLITHOTOMY
RADICAL PROSTATECTOMY FOR CANCER
RADICAL NEPHRECTOMY
RADICAL NEPHROURETERECTOMY
RADICAL CYSTECTOMY
ILEAL CONDUIT
AUTOAUGMENTATION
URETERIC REIMPLANTATION
URETERLITHOTOMY
CUTANEOUS URETEROSTOMY
SACRAL COLPOPEXY
SUI SURGERY
3D KIDNEY TRANSPLANTATION
3D Robotized LAP DONOR NEPHRECTOMY / NOTES
AUTOTRANSPLANTATION
PAEDIATRIC RENAL TRANSPLANTATION
MEN'S HEALTH CLINIC
CARE YOUR PROSTATE AND KINDNEYS - BPH/VOIDING DYSFUNCTION
CARE YOUR URETHRA - MALE URETHRAL STRICTURE
CARE YOUR PENIS - ZSR CIRCUMCISION
CARE YOUR FAMILY - MALE INFERTILITY
CARE YOUR FAMILY - ANDROLOGY
CARE YOUR PENIS - ERECTILE DYSFUNCTION
Our Team
The only Hospital in Kerala with Uro Surgeons having Expertise in LASER, 3D LAP, DEX Robotized LAP Surgery
Our team of specialists are among the finest urologists well known for their expertise in the field internationally. With a track record of having performed the highest number of laser surgeries, the team leads in success rate and imparting modern treatment methodologies too.